Reaching the most extreme places in the World is of interest to modern man. No more undiscovered continents to record, no more secret areas to discover… so the race to the extremes takes the form of compulsive challenges – the highest peaks, the longest sequences, speed everywhere, the collection of pluses and minuses… well, rather "pluses" for that matter.
EXCEPT… for us!
The success on the highest peak, the Chomolungma (Everest), is one of today's most popular challenges. And feeding the morbid needs of the public of which we are part, it goes without saying…
We are therefore the happy protagonists of one of the most confidential challenges of all time, and one of the most uninteresting too, namely the… the lowest Climb in the world!
The name of that masterpiece? 'Salty Shark'!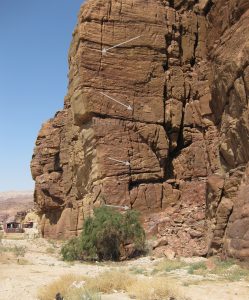 It is on the shores of the Dead Sea, 410 meters below sea level, and is rated 6b/c for about 20 meters high. It is just on the crag next to the Mujib Bridge, in Jordan.
The performance is all the more remarkable as it allows another one, only a few meters away. That of floating in salt-saturated water without any effort, except to readjust from time to time your anti-UV goggles on your nose, to avoid being dazzled by the sun, so strong in these latitudes…. It's in the Dead Sea, a few hundred meters from the rock.
We: Hakim Tamimi and Wilfried Colonna, on an autumn day between 2015 and 2018…