December 2020 – Covid19 has of course delayed the whole training process.
The spring, summer and autumn 2020 on-site training courses have been cancelled.
Nevertheless, the training continued in the form of practical exercises for the upcoming exams, via e-mail, Whatsapp and videoconferences.
The trainers are expected to return on site in January 2021. The final dates haven't yet been decided – they will be fixed shortly according to the evolution of the pandemic and the sanitary rules of our two countries, as well as the ENSA's internal calendar. The students have nevertheless remained active despite the sanitary rules enforced during summer and fall.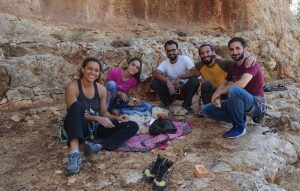 For Trekking Guides
The files for the trekking project that each had to prepare were all handed in on time, but with a great diversity of volume and content. ENSA professor Neil Brodie has already given an initial feedback of comments, advices and adjustments on these dossiers.
The final assessment of these projects will take place orally, on the spot.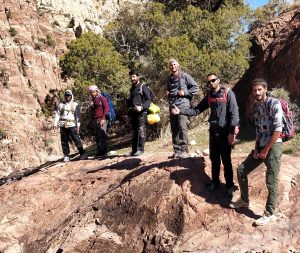 Trekking Adventure Guides on action in Dana
For Climbing Instructors
They have been asked to carry on with their personal training – indoors and outdoors. The trainers shared with the students their training methods with the aim of keeping in shape as a climber, and even improving their strength, flexibility, stretching and coordination abilities.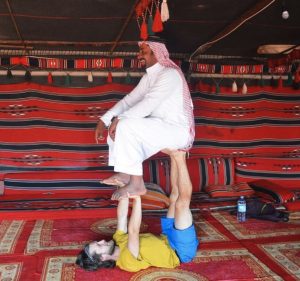 A search for outdoor climbing sites for beginners has also begun on site. It was recommended to the future instructors to find cliffs that were not too steep, suitable for children, school groups, adult beginners, etc.
Extensive discussions and reflections on the control of the fall assumed in climbing outdoor and in the gym, as well as on the organization of sessions for collective groups of children ensured a minimum follow-up.

External consultant, Abdallah Hijazi gives a course on in-situ equipment for sport-climbs near Kerak.

For Mountain Guides
Tour lists were provided to them, with requests for evidence in the form of photos, clues and controllable descriptions in return. Thus, some very nice outings were made, some of which were unreleased, or simply unknown to the trainees. These climbs correspond to specific skill requirements, linked to the specificities of the terrain; long and short Bedouin routes, affordable multi-pitch and short climbs to measure the pure technical level of each one.
These lists can be obtained free on demand.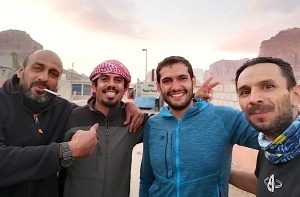 Yazan, Omar, Ahmad and Islam – just back from the mountain

The different programs of courses and exams to come will soon be delivered to the trainees.
We wish everyone a Happy New Year!
Wilfried Colonna
* ENSA/ENSM from Chamonix – Ecole Nationale des Sports de Montagne.