The West to East traverse of Jebel Rum, over its narrowest section, don't need to be introduced.  Called "Thamudic" or "Nabatean" Route it has already been cataloged among the "Most beautiful climbs worldwide" in the book "Les plus belles escalades autour du Monde – Parois de légende" (Walls of legend) from Arnaud Petit, the famous french globetrotter mountaineer (in couple with Stéphanie Bodet).
Totally unique at this time, the complete North-South crossing – only recently recorded – amplifies to paroxysm the impression to make something … extra-ordinary!
It takes two days, with a bivouac under the stars in the middle. Warning, this is a gem!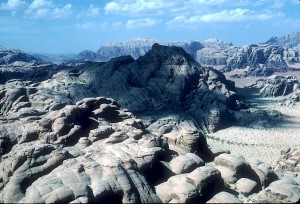 It has been rarely done so far (2015), and only two times for a single day run between 9.30 and 11 hours…
This exceptional trip on the baroque domes of the most majestic peak in Jordan, and probably throughout North Arabia, offers one of the most beautiful mountaineering experience across the globe. I say that seriously.
Mountain guide advice – train to be agile in all terrain. Develop your "mountainy balance", be able to master any grade IV passages, up and down, and be fully experienced with rope handling and spotting (like on bouldering).
Learn more about the Bedouin routes (here in french) – les Voies bédouines.
Here, no long technical pitches, but a multitude of facies to be mastered in stride – scabrous walking, uphill and downhill, on traverses, in balance, and always taking advantage of the amazing friction of the local colored sandstone.
Even if you are a little jaded, longtime mountaineer, I promise you, to the return of that adventure, your vision of the mountain world will never be the same. The Jebel Rum will keep a very special place in your heart. To know more, click here quickly!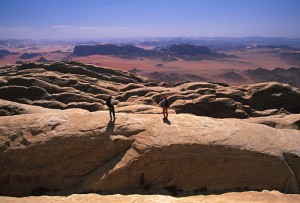 The whole trip needs approximately 16 to 18h. Endless possibilities of idyllic bivouacs.
To really enjoy the adventure physical fitness is required.
Do not hesitate to regroup and to hire the services of one of our guides, Bedouin or European (UIAGM-IFMGA). These are truly the only ones to know the mountain well and to guarantee you a safe journey.
This crossing requires to manage the recurring problem of water. Take 3 to 4 L per person per day, not counting the water for morning and evening at the bivouac … In short, you understand that you will not avoid carrying your own heavy load!
For more details, please contact here.
Wilfried Colonna – mountain guide (UIAGM-IFMGA). Learn more about Wilfried.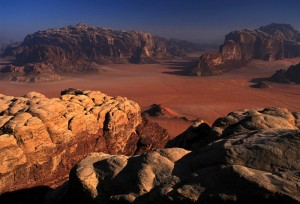 A taste by scrolling the thumbnails…