This is our latest alpine-like program – climbing Jebel Rum, away from the beaten track, after having done some of the best 'Bedouin Routes' in the desert.
Even so when penetrating the unique sanctuary of the 'red-rose city of Petra'!
It is not only taylor-made for mountaineers, agile on all types of terrain, well trained and keen to experience an outstanding adventure.
But also the most accomplished one regarding the North-South crossing of Jebel Rum (1754m), highest peak of  Wadi Rum Mountains
We are in 2020. It is new – the direct result of our latest explorations as guides, experts in the country for more than thirty years.
Technical level: be at ease in the F4c/5a with sustained up and down scrambling. You should have no problem making rappels on the row.
Upcoming DATES – Spring & Fall 2020 and 2021.
10 days Europe-Europe, 8 full days in the country.
5 days in the mountains and desert, 2 days in Petra, 1 day rest.
Possible extensions
Day by day routing. Variations are possible.
J1 – Arrival in Amman or Aqaba. Hotel overnight.
J2 – Transfert to Wadi Rum. Afternoon hike to discover a canyon connecting the two main valleys of the massif – Wadi Rum and Wadi Um Ishrin.
Overnight in a bivouac-camp in the desert.
J3 – Ascent and/or crossing of Jebel Khazali, one of the most remarkable peaks in the area.
Overnight in a bivouac-camp in the desert.
Level is adaptable – F4c in one or two places, otherwise F5b max for the more difficult option, and for a single passage. Descent – down-climbing and/or rappels.
J4 – Hike and scramble on a more remote peak, near the border with Saudi Arabia.
Overnight in a bivouac-camp in the desert Mostly walking – a rest day in some ways…
And now the Extraordinary! SEE HERE!
J5 – Crossing Jebel Rum, North to South, in its great length. Day one.
Bivouac on the mountain.
J6 – Crossing Jebel Rum, North to South. Day two, and return to the valley.
Overnight in a bivouac-camp in the desert.
Climbing level – F4c/5a max for this unique journey, with many F3-4 parts that intersect the long and sustained alpine trip – sometimes very exposed!
A single abseil is needed for crossing the 'Great Siq' which splits the mountain in two blocks…
Down walking and scrambling on long distance…
J7 – Road transfer for Petra (Wadi Musa) late morning or early afternoon.
Overnight in a comfortable camp in Little Petra. It's a rest day.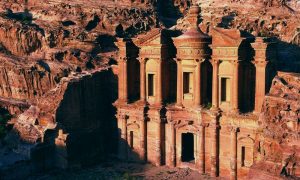 J8 – Part visit of Petra, hiking from the North.
Overnight at the hotel or guesthouse in Wadi Musa, modern town of Petra.
Full day of diversified walking for a first discovery of Petra!
J9 – Second part of the visit to Petra – recently elected 'Wonder of the World' – through the classic and unmissable entrance of the 'Sicq'.
Transfert routier dans l'après-midi pour Amman ou Aqaba-Red Sea.
Road transfer in the afternoon to Amman or Aqaba-Red Sea. Overnight at the hotel.
Day of walking/visiting.
J10 – Departure and return to Europe.
Note – this program can easily be enhanced by the absolutely exotic trek of a tropical canyon, without any major difficulty, like the Wadi Hasa over two days.
Prices in Jordan Dinars (JOD), on Aqaba, or Amman, airport to airport basis.
These prices do not include the flights.
To get the price in Pounds or €uros- click here
2 participants – 1780 JOD per pers.
3 participants – 1290 JOD per pers.
4 participants – 1170 JOD per pers.
5 participants – 1000 JOD per pers.
6-10 participants – 930 JOD per pers.
3 to 4 persons per party. Each party is led by a professional Mountain Guide, except in Petra where the group will be led by a single guide.
Many other extension options – click here
Contact us